From Medscape Medical News > Psychiatry
Poor Dental Health Linked to Dementia Onset
April 13, 2012 — Poor dental health has been linked to an increased risk for dementia, new research shows.
In a study of more than 4000 elderly adults in Japan, those who had few teeth and who did not use dentures or who did not visit a dentist regularly had a significantly higher risk for dementia onset than the participants who practiced better dental health practices.
"The number of dementia patients is increasing, but there are no effective treatment and prevention methods. Therefore, finding risk factors contributes to solving the problem from the viewpoint of prevention," co-investigator Yukio Hirata, PhD, DDS, professor in the Division of Sociological Approach in Dentistry at the Kanagawa Dental College in Japan, told Medscape Medical News.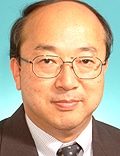 Dr. Yukio Hirata
"It is surprising that subjects having few teeth but not using dentures are at risk for dementia onset, but those having few teeth and using dentures are not. The results suggest that denture treatment for patients having few teeth might prevent dementia," said Dr. Hirata.
The study is published in the April issue of Psychosomatic Medicine
.
For more read: Poor Dental Health Linked to Dementia Onset.